June 8 to 10, 2012. Electric Daisy Carnival takes over the Las Vegas Motor Speedway for the second year in a row. The three-night dance music festival attracts tens of thousands of young fans who fill up the city's hotels, including Circus Circus on the Strip. It was here that 22-year-old Emily McCaughan and her friends stayed, and it was here that she fell to her death after returning from EDC on the last night of the event.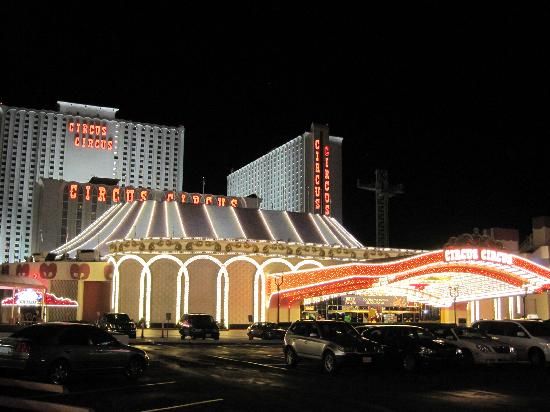 According to her friends, Emily McCaughan took the drug ecstasy and became severely paranoid at EDC. Convinced that someone was following her, she left the party early. When the rest of the group returned to Circus Circus several hours later, she was dead. Her body was found on a roof atop the third floor.
It took news publishers at least five days to announce this case and when they did, police still had not made the death public nor had the coroner's office confirmed the cause of her fatality. The Las Vegas Review-Journal was the first organization to break the story, with national media outlets including The Associated Press joining in a day or two later.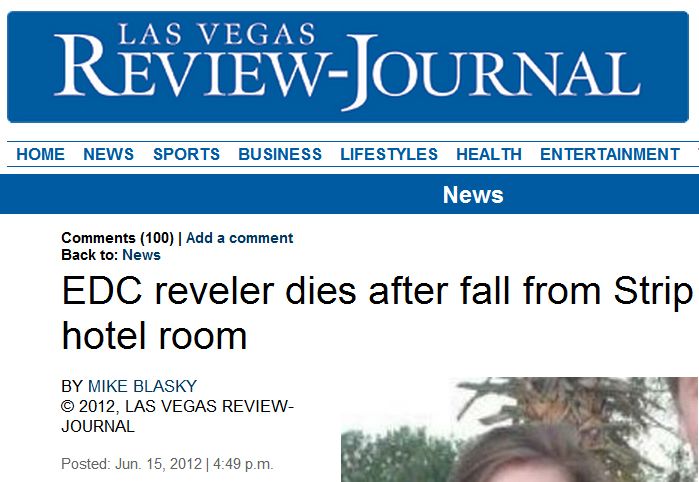 It's unclear exactly what happened when McCaughan arrived at the hotel room, but the young woman was very distressed... She began sending Facebook messages to her friends at the festival begging for help, writing that "they haven't come for me yet." McCaughan had attempted to barricade the door and had removed the SIM card from her phone so she couldn't be tracked... Her friends received McCaughan's terrified messages and gathered their crew to return to the hotel.
- Las Vegas Review-Journal
While most of the coverage indicated that ecstasy sent McCaughan into a state of panic and delusion, what seemed to be missing from the reports was an account of McCaughan's recent drug use history and evidence of her mental health. This account would have likely come from at least one friend who - the day before the Las Vegas Review-Journal article was posted - had reached out to online peers at Reddit.com to weigh in on the possibility of an ecstasy-induced suicide.
Ecstasy (3,4-methylenedioxymethamphetamine - MDMA) is an illegal synthetic amphetamine. Ecstasy pills contain 80-125 mg of MDMA, but can vary widely in strength and purity (from 0-180 mg of MDMA). Since ecstasy is not regulated, and is often cut with other substances or more dangerous drugs, you can never be sure what you're really getting.
- Los Angeles County Department of Public Health
The friend shared the unfortunate details of how his EDC weekend ended and described possible factors leading up to the incident in hopes of receiving insight and knowledge from fellow Reddit members who could explain some causes behind this tragedy. McCaughan is referred to as "Claire" in the discussion. The friend's opening post as well as all of his replies were later deleted. The highlighted comments below represent respondent feedback, most of which still remain at the Reddit page.
McCaughan's friend wrote that their group had taken white pumas. Black market pills sold as ecstasy are pressed with distinct colors and brands, and the batch that was sold to them were white with puma logos. Aside from McCaughan's reaction, her friend maintained that no one had any abnormal or negative experiences from these pills.
Link to PillReports.com
The friend stated that at another music festival a few months earlier, McCaughan had also taken white pumas ("same pills from the same dealer") and exhibited a similar state of paranoia towards the end of the event. At some point after this initial incident, she visited a psychiatrist who provided her basic advice.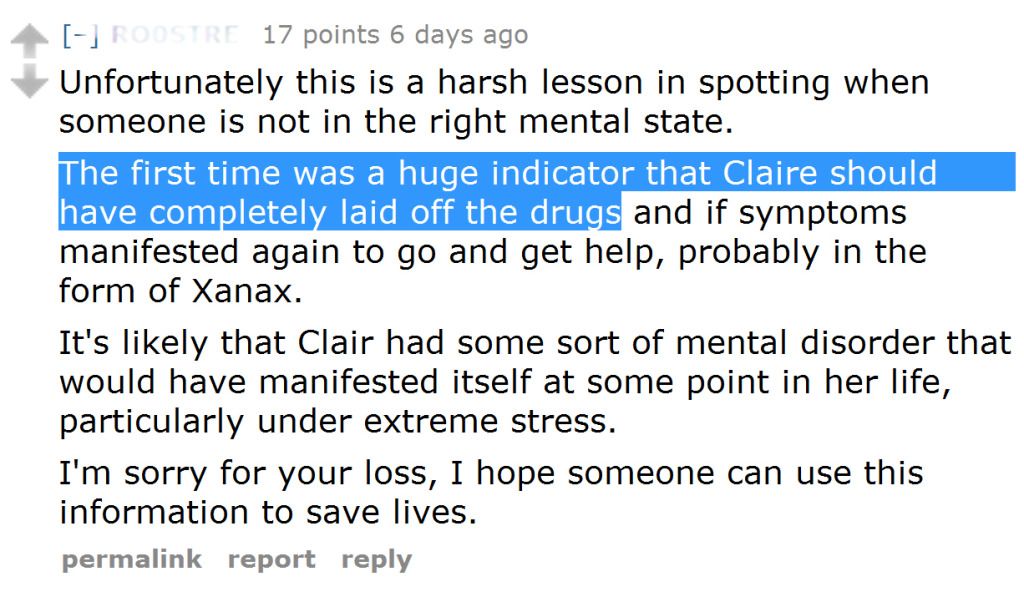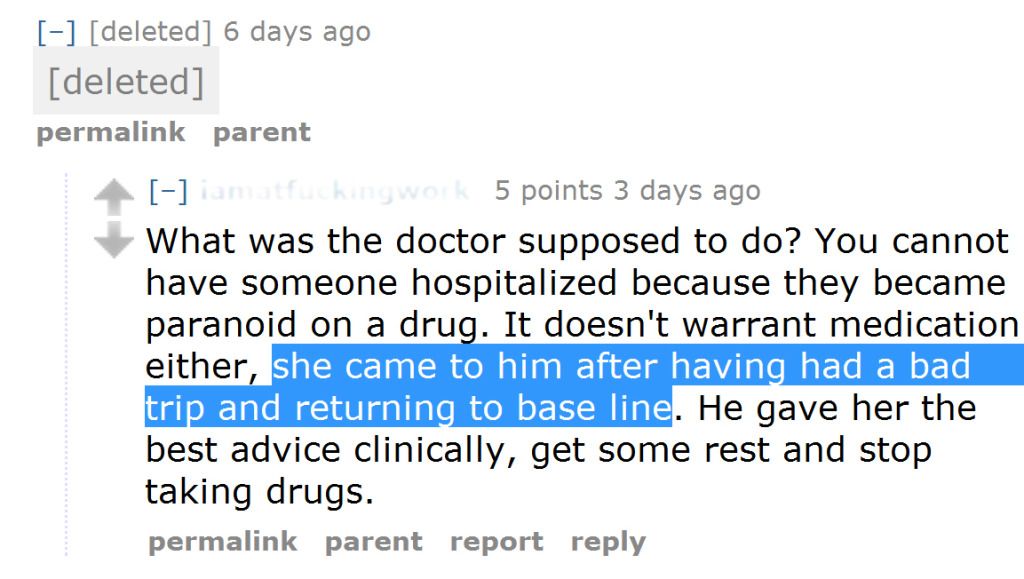 According to her friend's Reddit post, McCaughan had taken anti-depressants in the past. It is unclear whether she was taking them on EDC weekend.
Selective serotonin re-uptake inhibitors or serotonin-specific reuptake inhibitor (SSRIs) are a class of compounds typically used as antidepressants in the treatment of depression, anxiety disorders, and some personality disorders. SSRIs are believed to increase the extracellular level of the neurotransmitter serotonin by inhibiting its reuptake into the presynaptic cell, increasing the level of serotonin in the synaptic cleft available to bind to the postsynaptic receptor.
- Wikipedia
The feelings of euphoria and empathy reported by ecstasy users is believed to be caused by MDMA's ability to release a relatively high level of serotonin within a short time frame. The use of SSRIs disrupts this process and may have other effects which have not been well-established yet. Furthermore, MDMA loses its effects with frequent, consecutive use. If serotonin is being released and used up faster than it is being produced, the brain merely cannot catch up.
While Reddit is an informal and non-professional source of content, the above discussion contains crucial and relevant details on Emily McCaughan's case. In order to have a thorough and accurate understanding of what happened to her, we must consider these medical and circumstantial factors. Feel free to pass this information along so that current and potential drug users will be better-informed and more cautious in their decisions. And please be respectful and compassionate when sharing this blog post. Thank you.